BRUH. You ready for me to blow your damn mind?
I say this all the time to people who don't spend 16 hours a day staring deeply into the butthole of the Internet:
I believe that software can save the world.
And even if it doesn't, at the very least, it'll save us all some damn time and hassle.
So here's a short list of my top favorite software-as-a-service tools.
I've left out a few things like my email service provider (ConvertKit, for the record. Just kidding, I switched to ActiveCampaign when CK shit the bed. Still kidding! I switched to Bento when ActiveCampaign shit the bed), and my video call software (Zoom), since people tend to be able to pick these things for themselves depending on their needs.
Most of the below recommendations don't have referral/affiliate links, but a couple do. I'm lazy like that. 😉
I hope this introduces you to at least one killer new tool that saves you time and makes you feel like a total badass!
I don't really use a CRM (customer relationship management) platform. That's because, with Boomerang and Trello combined, I don't really need one.
For me, Boomerang does 2 things:

Keeps me from

ever

forgetting to follow up on an email, with its "Return to inbox if no one replies" function

Transforms

"I'm a nutjob who writes emails at 11pm"

into

"I'm a bright and capable early riser,"

with its "Schedule email to send later" function
Sometimes, all I need to stand out from the faceless pack of rabid copywriters is the simple reassurance that I'll answer emails and stay on the ball. I can't believe the bar is that low, but sometimes it really is.
Speaking of low bars
How I use it: Following up on project proposals, review deadlines, collaborations, cold emails, you name it.
Anytime I think someone *might* not get back to me, I click a lil checkbox and sit back on my haunches, reassured that I won't forget to follow up.
—> Looking for something similar but more powerful? Something that can automatically send one-on-one emails in a sequence to multiple people, cue up draft emails for you, and remind you to follow up when no one's answered? Look no further than Bluetick.io.
(Full disclosure: I wrote the Bluetick site copy and am speaking at the founder's conference this month. Fuller disclosure: That doesn't matter, because the tool is fucking rad.)
Telling you about TextExpander is my gift to you for reading this far.
You know all those things you're constantly having to dig up, copy/paste, or type from scratch? Like…

Canned responses to the kinds of emails you get all the time

Links to your calendar or video call locations

Reminders to send or do something

Links to your past content, favorite posts, or products/services

Short phrases like "How are you?" or "Thanks so much"
TextExpander takes the tedium of typing or copying/pasting your canned responses or links, and replaces it with a short abbreviation.
FOR EXAMPLE. When I wanted to send someone to my Calendly scheduling link in the past, I'd open a new tab, type "cal" into the omnibox, and wait for my oft-visited Calendly link to come up.
If I'd cleared my cache recently, I'd have to go as far as logging into Calendly to grab the right link.
GROAN.
Now all I have to do is type "x30cal". Voila: the right link, prefaced by the sentence "Any times that work for you here?" loads automatically.
It's MAGIC.
Relax and enjoy.
(The "x" prefix is so I don't accidentally TextExpand anything I don't mean to. You can add any prefixes you want. Plus, TextExpander sends a series of helpful emails showing you how to use the tool to its full potential. Love that about them.)
I've got whole canned emails preloaded as "snippets" under short labels.
No more copy/pasting. No more just writing new versions of them every time.
TextExpander works across all of your devices and if you haven't signed up already, Jesus Christ what are you waiting for?
I'll be the first to admit that I'm not using Zapier to its full potential. It's the glue that holds the whole Internet together, in my eyes.
But still: having the ability to connect basically any tool I want to any other tool I want? AMAZING. WE ARE IN THE FUTURE.
(I know this isn't exactly news. If you were looking for a hot take, you may want to look elsewhere.)
You, searching for a hotter take
How I use it: To connect Typeform to GoogleDocs, so new client intake forms are automatically in a Call Notes document before I ever get on Zoom. And in my other business, SNAP Copy, we use it to connect WooCommerce to ActiveCampaign so we can auto-send new clients the right emails.
There are many, many cool ways to use Zapier, and I plan to have my brand-new VA set those up for me (I am more excited about finally having a VA than I will ever be about the birth of any baby, even mine).
Another "Duh" moment for a lot of y'all here.
Trello is a "card"-based tool that works for a ton of different use cases. Most folks I know use it as a project tracker, and take advantage of the ability to add labels, due dates, and checklists to cards to keep themselves organized.
My actual Trello "CRM" at the moment
How I use it:

As a "light" CRM to track clients, from prospect to proposal to project to post-prandial pinot noir

As an actual project tracker to make sure I check off every project's component parts

As an accountability tool to make sure my good buddy

Amy Harrison

and I get the things done that we said we would
Fun fact about The Zone: it's impossible to get in if there's someone near you at the coffee shop chewing like a wild animal.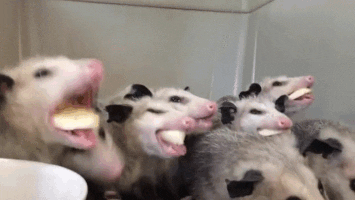 This is the worst sound in the world.
Or someone yakking on the phone to their girlfriend. Or someone with a baby that just CAN'T GET ITS SHIT TOGETHER.
Or… you get the point.
Now, you could pop your headphones in and listen to music. But what music? And what if the music distracts you even more than the chewing noises?
Enter Brain.fm. This handy little player offers three modes of music: Focus, Meditate, and Relax.
The "Focus" mode treats your ears to a thrumming background of music-ish noise that ebbs and flows according to ~*~* science *~*~. Apparently it messes with your brainwaves in some way? I don't know. I haven't read the website.
This is what it looks like:
How do I describe the music? It's kinda trancey, but sometimes there's piano. Honestly, I don't know what to call it — because the point is that it works so well you're not really listening.
Now, anytime I need to enter The Zone, I can pop in my earbuds and get to work, regardless of whether I'm surrounded by noisy chewers, phone talkers, aggravating babies… or some monstrous combination of all 3. That is my nightmare.
Loom
If an email reply needs to be longer than 4 sentences, and I find myself avoiding replying because I prefer to get paid to type, I make a Loom instead.
And you know what? People thank me for it.
Grain
Grain plugs into Zoom and records your calls. Stop yawning. I promise this is cool:
Unlike other call recording apps, Grain automatically summarizes key points of your meeting for you (whaaaaa!!!), creates a (pretty accurate) transcript, and even allows you to make video highlights by clipping pieces of the transcript. Hell yeah.
Honorable Mentions
Google Apps. All of 'em.
Google is life. That's it, y'all. If you're still using Microsoft Office and exporting files and dealing with "markups," you're probably also still driving the same car you had in 1989 and shouting at birds, and I can't help you.
Yep, Google has all my data. It knows things about me that not even my therapist knows, and I'm cool with that… because I have to be, trolol.
If you're not cool with that, it's probably time to stop reading this and start building your off-grid survival yurt.
Why I use it: Shareability, free space on my hard drive 'cause everything's stored in the cloud, minimal fear of losing everything I've been working on… unless Google decides to steal it.
Typeform
Typeform is a form builder. You probably know of it or already use it.
I use it for my prospect intake forms, customer surveys, and various other formy things. It's easy to build a pretty-looking form that has a more visually engaging customer experience than other forms. (As an aside, if you're in search of an insanely informative monsterpost about creating better customer experiences, head to Hotjar to read this piece I contributed to.)
Pro tip: Make your prospects choose between kitties and puppies, and only work with the kitty people
Typeform also presents questions one at a time, helping cut down on information overwhelm that could keep your forms from being completed.
How I use it: The "Logic Jump" functionality (only available for ) makes it easy for me to weed out prospects who won't be a fit, and send them to the right place for whatever service they need.
One thing it's NOT great for? Creating quizzes. You're better off coughing up the $30/month for <Interactor a similar tool. 🙁
I stopped using Typeform because they kept reducing features and capability… and billing me $400 annually without even so much as a "hey, this is happening" email. Don't love it! Actually really hate it!
Digit

(Now Oportun)
Digit is a sneaky little pal that you connect to your checking account. Whenever you spend money, it swipes a little bit more from you and stashes it away in a savings account.
Every now and then, you'll remember you have a Digit account and discover that all of a sudden, you actually have like $500 more than you thought you did.
Well would you look at that. COLD HARD CASH.
It's like free money!!!
I mean, it's still your money, but admit it: you wouldn't have saved it on your own.
How I use it: Travel piggy bank. Helllooooo, Croatia.
Please please tell me about your favorite tools in the comments! I can never have enough subscriptions.